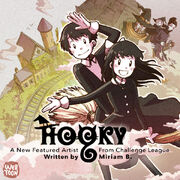 Hooky is a fantasy webcomic written and drawn by Míriam Bonastre Tur. It is published on Webtoon. The webcomic follows the two young witch twins Dani and Dorian Wytte after they missed the school bus.
Dani and Dorian have missed the bus of the school of magic.
Now, they must find someone who teach them how to be a great and good witches...
Míriam Bonastre Tur began to create Hooky when she drew Dani and Dorian for the Inktober challenge, and afterwards, she became so "obsessed with them" that she decided to start a comic about them. A friend of hers suggested competing in the LINE Webtoon contest.[3]

Míriam announced on March 22, 2015, that Hooky was to become featured on LINE Webtoon.[4]
References
Edit